DeSantis signs education law in The Villages | News | Daily Sun Villages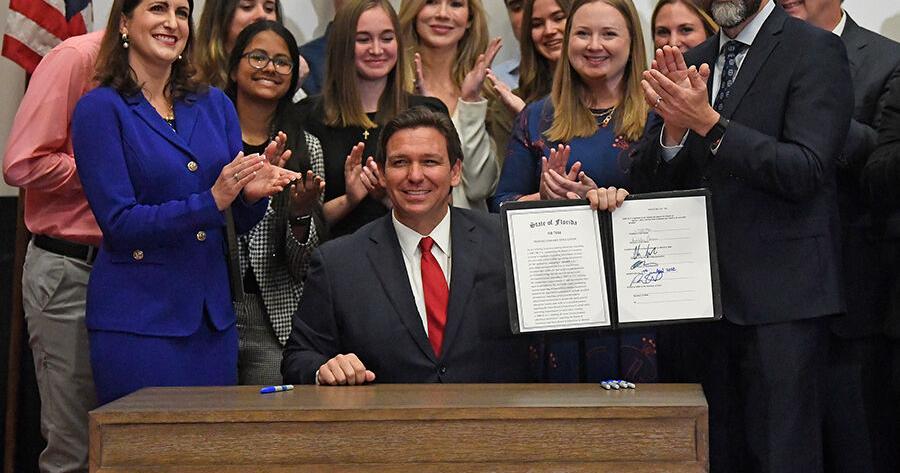 Higher education in Florida will be different next year after Gov. Ron DeSantis put pen to paper and signed Senate Bill 7044 into law Tuesday at the Barnstorm Theater in Brownwood. "What we're doing today is really making sure that, yes, higher education is important, but it has to be accountable," DeSantis said. DeSantis spoke in front of a movie screen proclaiming "higher education reform" in front of a nearly full theater. As of July 1, this is the last education bill to be signed into law from a session that included the Parental Rights in Education or 'Don't Say Gay' Bill and the Stop WOKE.
Among other things, SB 7044 prohibits public Florida colleges and universities from being accredited by the same agency or association for consecutive cycles and authorizes the Board of Governors to create regulations that will require tenured professors at state universities to pass performance reviews every five years.
"I think what tenure does is it creates more of an intellectual orthodoxy where people who have dissenting opinions, it's even harder for them to become incumbent in the first place," DeSantis said. "And then once you get tenured, your productivity really goes down, especially in certain disciplines."
The bill will also require public Florida colleges and universities to prominently display tuition and fees on their websites and notify enrolled students of the proposed changes.
"When you're trying to budget for tuition, room and board, you look at that, and then if there's all of these other costs, well, that can be quite significant if left unchecked," said DeSantis. "So we're doing it today and we're keeping it under control."
Several post-secondary students stood behind DeSantis as he spoke, including Mateo Guillamont. Guillamont, a 20-year-old student at Florida State University majoring in philosophy and political science and a minor in computer science, who moved to Florida 10 years ago from Spain.
"I am very passionate about government, politics. Being an immigrant myself, I appreciate the liberties and liberties we have here in this country," Guillamont said ahead of the event. "And so, whenever I have the opportunity to engage in law-making, I take it. I take the chance and the opportunity, that's why I'm here today. Definitely worth the detour.
DeSantis was also joined by State Sen. Manny Diaz Jr. (R-Miami), who sponsored SB 7044; State Rep. Amber Mariano (R-Hudson), who sponsored a related bill; Congressman Daniel Webster, whose district includes The Villages; State Senate President Wilton Simpson; and State House Speaker Chris Sprows.
"This bill is about students," Sprows said. "It's about making sure our universities are places to prepare people to learn, grow and thrive.
Florida Commissioner of Education Richard Corcoran praised the work of Simpson, Sprows and DeSantis on education.
"What we have achieved in education is astounding, and this bill is just another example of that," he said.
Several local officials also attended, including Sumter County Commissioners Doug Gilpin and Roberta Ulrich, who were appointed to the commission by DeSantis in March to fill suspended Commissioner Gary Search's seat.
Carol Mangan, president of the Republican Federation of Federated Village Women and a resident of LaBelle Village, was among the audience watching the signing.
The most important thing about it, she said, was "that it focuses on the young people themselves, the students. It aims to provide them with a pathway for their future.
When DeSantis sat down to sign the bill, he asked for the date. The public said it was April 19.
"Time flies when you're having fun," DeSantis said.
"It's a beautiful day in the Villages," someone said.
"Everyday is a big day in The Villages," DeSantis replied.
Specialty Writer Leah Schwarting can be reached at 352-753-1119, ext. 5375, or leah.schwarting@thevillagesmedia.com.